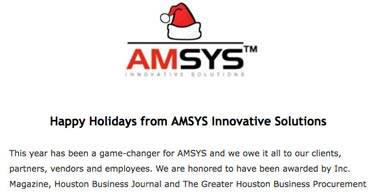 Newsletter – Happy Holidays
Newsletter – Happy Holidays
https://amsysgroup.com/wp-content/uploads/2019/12/news1.jpg
368
194
AMSYS ™
AMSYS ™
https://amsysgroup.com/wp-content/uploads/2019/12/news1.jpg
Happy Holidays from AMSYS Innovative Solutions
This year has been a game-changer for AMSYS and we owe it all to our clients, partners, vendors and employees. We are honored to have been awarded by Inc. Magazine, Houston Business Journal and The Greater Houston Business procurement Forum Committee, As we say goodbye to 2016, we hope you had as wonderful Of a year as we did. Bring it on 2017, we can't wait to see what has yet to come. Thank you again for all of your support and Happy Holidays!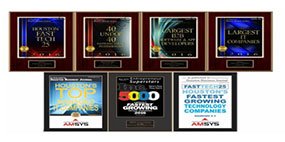 The Greater Houston Business procurement Forum Committee presented AMSYS Innovative Solutions with Technology Firm Of the Year on December 13th 2016 and we couldn't be more ecstatic. We are proud to do business with the City Of Houston after getting our MBE, DIR and HUB.
In our previous newsletters we mentioned Houston Business Journals awards; #5 The Houston Fast Tech 25 #11 La est Houston-Area Mana ed IT com anies #16 Largest B2B Software and App_DeyeJopers, #14 in Houston's Fast 100 and #936 in Inc. Magazines top 5000 Companies in the US.
Last but certainly not least we are so proud Of Our CEO, Khalid (Ken) Parekh as he was recognized as one of Houston Business Journal's 40 under 40. The honorees have started their own companies, as well as successful charities, and are setting the bar high for young professionals across the nation with their job creation and impact on society.
For those of you who don't know, Ken founded Zariya, a charity to provide children in impoverished communities with tools that lay out the foundation for educational and personal development. More information can be found at www.zariyausa.org.
A HUGE thank you again to each of you who have supported AMSYS for the last 14 years we have been in business. Catch us next year and stay tuned for updates in 2017.